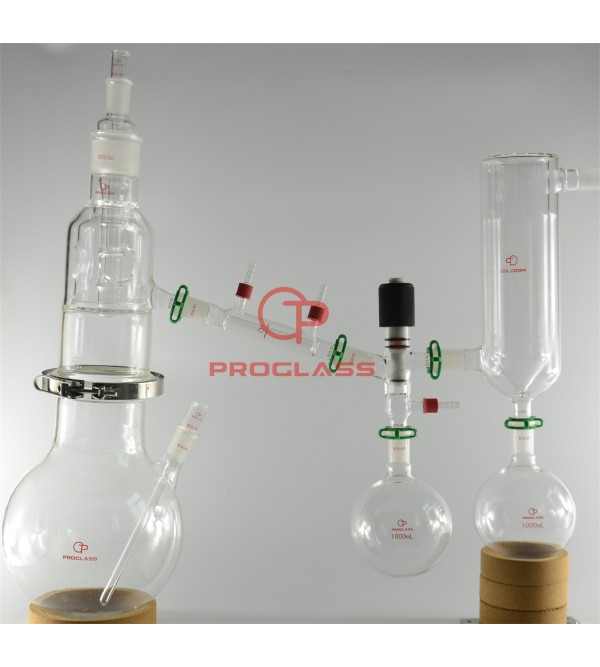 Short Path 20L Whole Distillation Kit
Brand: Proglass
Product Code:

1001-0005-00

Availability:

In Stock
$1,496.00
Ex Tax: $1,496.00
Customized would be availible
Made by hand blowing
Made of borosilicate glass 3.3
Customer's Logo would be available for bulk order
Description:
This is a set of 24/40 glassware for distillation in lab. With a 24/40 joint to accept thermometers calibrated for 200mm immersion.
The distributing adapter consists of a single 24/40 outer joint and three 24/40 inner joints to accept three 1000mL Round bottom flask receivers.
The receivers are held in place with plastic clamps. Including:
1.Distillation head, short path with Flange, with a 24/40 outer joint to accept thermometers calibrated for 200 mm immersion.one piece design for easy set up.
with removable hose connector.
2.55/50 distillation Column 1pcs
3.Round Bottom flask receivers with 24/40 joint 3 pcs
4.20000mL 2 necks flask, heavy wall design, with 24/40 joint, 1 pcs.
5.Cold Trap 24/40,150mm outer diameter with removable hose connector,1pcs
6.Improved Glass Vacuum Cut Off Adapter Joints 24/40 with GL14 , Vacuum Cow Adapter 75 Degree 1pcs

7.2000ml Receiving Flask,24/40,2pcs

8.thermometer adapter 200mm length, 24/40 joint. 2pcs
9.Bleeding tube.2pcs.

10.Penny-Head Hollow Glass Stopper.1pcs
11.Accuracy Yellow back Thermometer.1pcs
12.All of the clamps and stand in the picture


Be Made From G3.3 Borosilicate Glass

Annealing Point ------560℃
Linear Coefficient of Expansion------ 33×10-7/℃
Softening Point------820℃