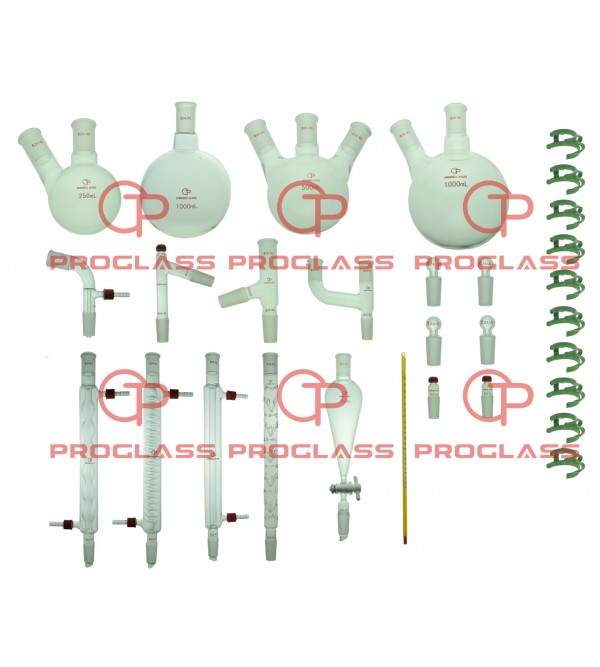 Organic Chemistry Advanced Kit
Brand: Proglass
Product Code:

1002-0001-00

Availability:

In Stock
Could do the Customer's logo on the glass and the Cabinet for the bulk order
The glassware parts in this advanced organic Chemistry glassware kit are all made of high quality borosilicate glass and annealed at 800C, can be heated directly in an open flame and can withstand typical lab thermal variations in Chemistry processes like heating and cooling. The glass apparatus in this kit are with taper joints, the joints are precision grounded with an extra hand grounding process to ensure leak free.
Including:
1.Claisen adapter, 3-way,1ea.
2.Thermometer adapter, three-way,1ea.
3.Vacuum take-off adapter,105°bend,1ea.
4.3 way adapter, 24/40, 105°,1ea.
5.Thermometer adapter,2ea.
5.Round bottom flask, 2- neck, 1000mL,1ea.
6.Round bottom flask, single neck, 1000mL,1ea.
7.Round bottom flask, 3-neck, 500mL,1ea.
8.2-necks round bottom flask, angled, 250mL,1ea.
9.300mm Liebig Condenser,with removable hose connector,1ea.
10.300mm Distilling column, vigreux,1ea.
11.300mm Graham condenser,with removable hose connector,1ea.
12.300mm Allihn condenser,with removable hose connector,1ea.
13.250mL Separators funnel,1ea.
14.hollow glass stopper,4ea.
15.PTFE clips,10ea .
16.Thermometer 200C,Yellow back,1ea.
17.bleed tube,1ea(5m).
All items are made by hand-blowing, with uniform wall thickness.

Be Made From G3.3 Borosilicate Glass

Annealing Point ------560℃
Linear Coefficient of Expansion------ 32×10-7/℃
Softening Point------820℃