Lab Chemical Liftable Jacket Reactor 10L 20L 30L 50L 100L 150L
Brand: Proglass
Product Code:

3000-2010-00

Availability:

In Stock
$1,299.00
Ex Tax: $1,299.00
The Jacket body can be raised and lowered easily, which is convenient for filling or taking out the block crystals. It can be rotated at 0~120° for easy cleaning.
inner layer of the glass reactor can be used for stirring reaction by recircling the reaction solvent, the interlayer is circulated through the cold or heat liquids, the interlayer of the glass reactor can be used for high temperature reaction (the highest temperature 300 ℃); and also can be usedor low temperature reaction (the lowest temperature 80℃); It can be evacuated for negative pressure reaction. And its unique design makes the test safer and more convenient.

The double-layer glass reactor mainly uses the characteristics of its double-layer glass. We can place the reaction material (somewhat called the reaction solvent) in the middle layer, and do the stirring under normal pressure or negative pressure. Layer reaction kettle is sandwiched, and a constant temperature (high temperature or low temperature) hot solution or cooling liquid is injected to heat or cool the materials in the reaction kettle at a constant temperature, and can provide stirring. In this way, the medium in the interlayer of the glass reactor (such as: refrigerating liquid, heating water or heating oil) is stirred to perform a cyclic reaction to achieve heating or cooling. It is widely used as an equipment in modern biochemical new material synthesis experiments.
Different cold and hot circulating liquids (hot water/hot oil/refrigerated liquid) can be passed into the interlayer of the glass reactor. In a sealed glass container, the reactants are stirred and reflected under normal or negative pressure. The fully transparent reaction process is clear at a glance It is an pilot plant for modern biopharmaceuticals, fine chemicals, and synthesis of new materials.
1. a new type of high borosilicate glass (GG-17) reaction experiment equipment with real force and chemical properties.
2. The unique equipment of this product, the whole machine has a stainless steel frame structure (its connecting parts are exquisitely matched with three links and four links), compact and firm, not moving, easy to move.
3. The unique frequency conversion speed regulation allows you to achieve high and low speed in practical use, ideal and accurate, and optional full explosion-proof system.
4. The kettle cavity and jacket are designed to have no dead ends, and the kettle cover is specially made for solid feeding. It is more convenient to clean without disassembly. The bottom material is designed for users to be more ideal to release concentrated liquid and trace solid liquid material.
5. The heating (refrigerating) solution in the interlayer of the reactor can be completely removed after the reaction is completed, without liquid accumulation.
6. The whole machine is scientifically ideal, beautiful and practical, leading the domestic counterparts.
Technology
1. Because the material used in the glass reactor (GG17 high borosilicate glass) has excellent materials and chemical properties. In the mixing process of frequency conversion speed regulation, it will be relatively stable, and no spark will be generated even if the torque is large.
2. In addition, the components are sealed with tetrafluoroethylene, which can maintain a good vacuum (usually around -0.095mpa) among similar products in the market, and maintain high-precision sealing under working conditions. There is also a debris collection tank.
3. Alloy steel mechanical seal, PTFE connection port, keep high precision seal under working condition.
4. Pt100 sensor probe, with high temperature measurement accuracy and small error, effectively improving work efficiency
5. Teflon discharge valve, movable interface, complete and quick discharge.
6. The cooling or heating solution in the interlayer of the glass reactor can be completely drained after the reaction is completed, without liquid accumulation
7. Integral stainless steel column movable frame structure, five-port reaction kettle cover, complete set of glass with reflux, liquid filling and temperature measurement.
8. Strong torque, no noise. Adopted Japanese technology AC gear reducer motor
9. The double PTFE stirring paddle of the glass reactor is suitable for stirring and mixing low to high viscosity liquids.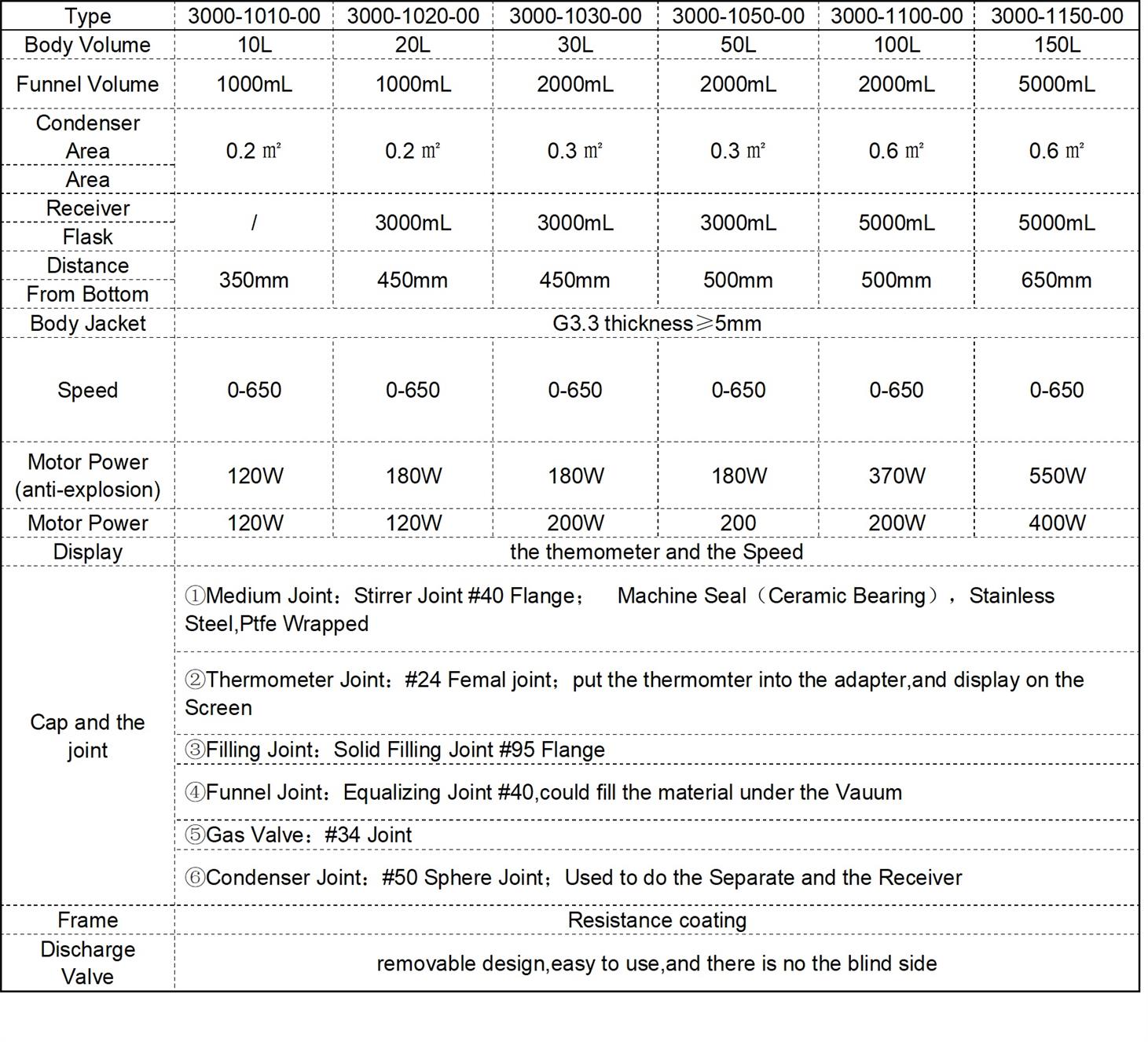 Tags: Lab Chemical Liftable Jacket Reactor 10L 20L 30L 50L 100L 150L